Harvest Law V11.0.3 update download instructions
**** Windows 7 or better required for this update. ****
Make sure that Harvest Law is closed before running this update
1. Click on the Start Download link at the bottom of the page. When the File Download dialog box appears, click RUN.

2. If the following Warning dialog box appears click Actions

3. If another dialog box appears click the Run or Run Anyway option.
4. When the WinZip Self-Extractor dialog box appears enter the location of your Harvest Law program folder in the Unzip to folder box (The folder location would normally be either C:\Harvest Law\ or C:\Program Files\Harvest Law\). Then click on the Unzip button.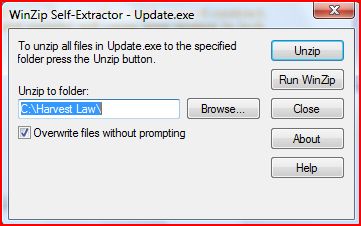 5. Your update should now be complete. Restart Harvest Law and click on Help and then About. Check that the version number is V11.0.3